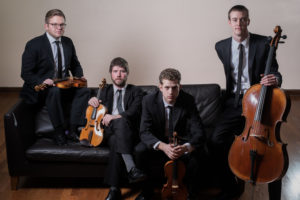 Altius String Quartet
Thursday, August 9, 2018
7:30 PM
First Baptist Church
New London, NH
Altius Quartet is an ensemble determined to further the art of chamber music through performance, education, and outreach. Deriving their name from the Olympic motto: Citius, Altius, Fortius (Latin for Faster, Higher, Stronger); Altius strives to communicate their vision of conveying art to a more diverse audience and engaging directly with the community.
Hailed as "rich" and "captivating" by the renowned music blog, "I Care If You Listen", the Altius Quartet is garnering an international reputation and enrapturing the hearts of audiences through their charisma and dynamism.
Altius has been awarded prizes at many internationally respected competitions including: the 2016 Alice and Eleonore Schoenfeld International String Competition, the 2014 Fischoff National Chamber Music Competition, the 2014 Coltman Chamber Music Competition, and the 2013 Plowman Chamber Music Competition. Formed in 2011 at Southern Methodist University Meadows School of the Arts, Altius currently holds the position as Fellowship String Quartet-in-Residence at the University of Colorado-Boulder, where they are mentored by the Takács Quartet. The quartet has an active performance schedule including engagements at music festivals, series, and universities throughout the United States including: Carnegie Hall, Chamber Music Cincinnati, Great Lakes Chamber Music Festival, and the Fayetteville Chamber Music Festival. During their tenure at Southern Methodist University, Altius Quartet served as Ensemblein-Residence working closely with Matt Albert, Emanuel Borok, and Andres Diaz. In addition, Altius has worked with and been guided by many of the foremost artists in chamber music including the Emerson String Quartet, Miró Quartet, Shanghai Quartet, and Kronos Quartet. In addition, Altius has collaborated with many celebrated artists includingHåkan Rosengren, Anton Nel, Andres Diaz, Peter Nágy, and Geraldine Walther.
Altius Quartet is deeply committed to outreach, often performing concerts and teaching master classes in public schools and alternative performing venues including: jazz clubs, bars, and cafes. In 2014, the quartet partnered with the Aspen Music Festival and School for annual educational outreach residencies. In addition, the quartet served as the 2014 fellowship quartet at the Music in the Mountains Conservatory in Durango, CO, wherethey had the opportunity to coach several young string quartets.
Visit their website for more information - http://altiusquartet.com/
Program:
String Quartet No. 3 in D major, Op. 44, No. 1 - Felix Mendelssohn
String Quartet No. 8, Op. 110 - Dmitri Shostakovich
String Quartet No. 14 in D minor, D. 810 "Death and the Maiden" - Franz Schubert