WASHINGTON SAXOPHONE QUARTET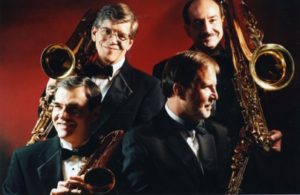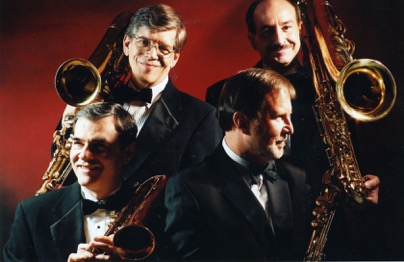 Washington Saxophone Quartet

Thursday, July 12, 2018
7:30 PM
First Baptist Church
New London, NH
WSaxQ is the most widely heard saxophone quartet in the United States. Since 1997, recorded arrangements by the Washington Saxophone Quartet have aired daily throughout the United States on NPR's broadcasts of "All Things Considered." Concert audiences enjoy their connection to WSaxQ when they discover they've been listening to the quartet's music during afternoon "drive-time." And it often comes as a surprise that they've been hearing four saxophones! The instruments evoke the refined sounds of a string quartet, the rich harmonies of an organ prelude, and the excitement of a jazz sax section.
The ensemble taps into a rich repertoire, from early music to newly commissioned works, and draws on a wealth of experience to reach listeners of every age and background.
Formed in 1976 – 2017-18 is our 41st Anniversary Season – WSaxQ has performed recitals, informal concerts, and master classes in the United States, the Caribbean, and China, and on radio and television worldwide. Recent appearances include concerts in New Hampshire and Vermont; the National Gallery of Art, Washington, DC (twice) (our concert there in 2012 was the 2011th performance on that historic series and we were the FIRST Saxophone Quartet); the Barns at Wolf Trap Center for the Arts, Vienna, VA (twice); the Lensic Performing Arts Center in Santa Fe, NM; Music at Corrales, NM; the Phillips Collection in Washington, DC.(twice); and the Sandler Center for the Performing Arts in Virginia Beach.
WSaxQ's "To China and Bach" CD highlights music from their 1995 and 1997 China tours. Their second recording is "Daydream." "Different Times, Different Places" was released in 2009; and then in 2011 "Tis The Season"  was produced, celebrating the holidays with a mix of Christmas favorites and selections from the Nutcracker Ballet. WSaxQ records on the Americus label. Our recordings are on iTunes, Spotify and YouTube.
The Washington Saxophone Quartet, Inc is a non-profit 501c3 organization chartered in 2009. For more information on how you can support our efforts, please contact us. View our website at www.wsaxq.com
Reg Jackson, Soprano
James Steele, Alto
Rich Kleinfeldt, Tenor
Rick Parrell, Baritone
The Agincourt Song (1415)
English Traditional
Paul Harvey – arr.
James Kasprzyk – trans.
Fugue in E minor BWV 533 (c. 1705)
J. S. Bach (1685 -1750)
"La Volta" (c. 1550)
Vincenzo Galilei (1520 -1591)
Ian Gammie – arr.
Galiarda ("Vincenzo Galilei") (1917)
Ottorino Respighi (1879 -1936)
from, Ancient Airs and Dances, Suite No. 1 Gary Bricault – arr.
Le Tombeau de Couperin (1918)
Maurice Ravel (1875 -1937)
Christoph Enzel-arr.
Prelude
Minuet
Rigaudon
Pavan: Belle qui tiens ma vie (1589)
Thoinot Arbeau (1519 -1595)
Capriol Suite (1926)
Peter Warlock (1894 -1930)
R. Kleinfeldt – trans.
Leonard Bernstein 100th
Slava! (1977)
Leonard Bernstein (1918 -1990)
Johann van der Linden-arranger
"Make Our Garden Grow" (1956)
From Candide L. L. Bernstein
Robert Page – choral arr. R. Kleinfeldt – arr.
West Side Story (1957)
L. Bernstein
"Selections" James Boatman-arr.
"Monk Tuno" from (1989)
Paquito D'Rivera (b. 1948)
New York Suite
"Night Club 1960" (1987)
from Histoire du Tango
Astor Piazzolla (1921-1992)
C. Voirpy-arranger