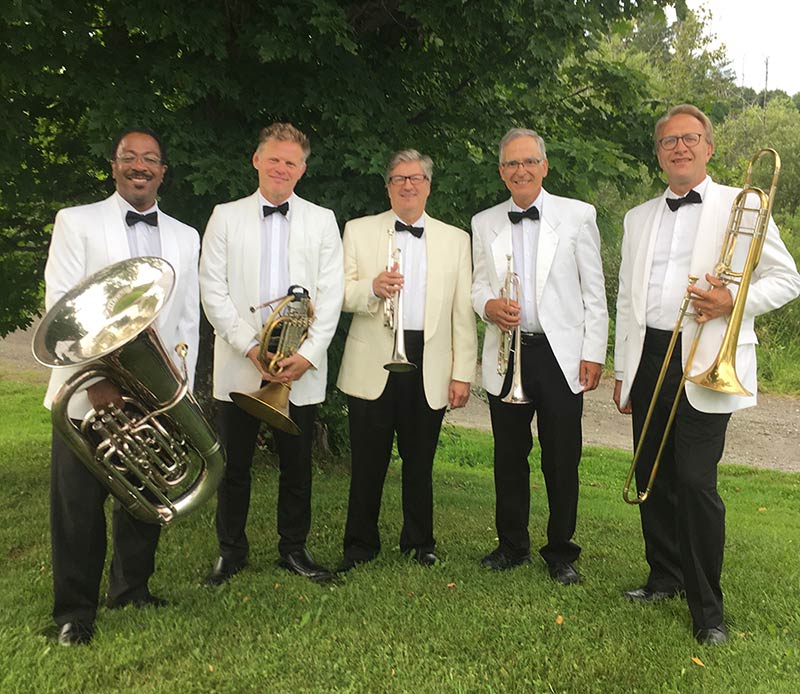 ---
Donate to SMA:
Donate to Youth Outreach:
PLEASE NOTE: Tickets purchased within 10 days of the concert will be held in your name at the "Will Call" desk at the concert venue the evening of the concert.
BEACON BRASS QUINTET  
THURSDAY, JULY 21, 2022
7:00 PM
First Baptist Church New London, NH
The Beacon Brass quintet was the first brass ensemble to win the prestigious Concert Artists Guild Award which rewarded them with a full-length recital in Carnegie Hall in New York. They have been featured at special events including the opening ceremonies of the John F. Kennedy Library, the centennial dinner for members of the Boston Civic Symphony, and concert/lecture series with famed Boston Pops conductor, Keith Lockhart.
The quintet is noted for its expertise across a wide spectrum of music, presenting nine world premiere performances and having commissioned several new works including Scott Wheeler's Brass Quintet.
Program
Fanfare in F                                            William Brade
Sonate per Sonare #3                           Giovanni Gabrieli
Alleluia, Alleluia                                      William Byrd
Contrapunctus IX                                   J. S. Bach
Theme and Variations on
"The Harmonious Blacksmith"            G. F. Handel
Three Pieces                                          Ludwig Maurer
Maestoso alla Marcia
Andante con moto
Allegro Grazioso
Finale from Quintet #2                          Victor Ewald
Intermission
The Olympic Spirit                                 John Williams
Triumphal March from "Aida"               Giuseppi Verdi
Three Rags                                             Scott Joplin
The Entertainer
The Easy Winners
The Cascades
Little Brown Jug                                     Arr. Rosenthal
In a Sentimental Mood                          Ellington-Gale
Caravan                                                  Ellington-Kadleck