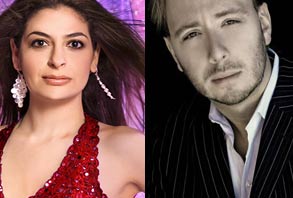 ---
Donate to SMA:
Donate to Youth Outreach:
PLEASE NOTE: Tickets purchased within 10 days of the concert will be held in your name at the "Will Call" desk at the concert venue the evening of the concert.
LINDSAY DEUTSCH, Violin
THOMAS PANDOLFI, Piano
POSTPONED UNTIL 2021
THURSDAY, AUGUST 6, 2020
7:00 PM
First Baptist Church
New London, NH
ROCKSTARS THROUGH THE AGES!
This powerhouse duo takes the crowd on a whirlwind journey through the hits of the centuries, expressing a variety of musical styles from classical to jazz to Billy Joel. Spiced with humor and laughs and a bit of history, audiences everywhere rave about these unique artists and their diverse and entertaining programming.
Piano Man Meets a Violin Woman – A Billy Joel Medley
Prokofiev Romeo and Juliet
Chopin Nocturne and Polonaise
Yankee Doodle Variations
Schindler's List - John Williams
Porgy and Bess – George Gershwin
Romantic Aria Favorites
Best of Beethoven
Claire de Lune – Claude Debussy
Improvisation on Beatles