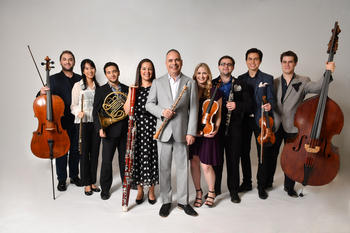 ---
Donate to SMA:
Donate to Youth Outreach:
PLEASE NOTE: Tickets purchased within 10 days of the concert will be held in your name at the "Will Call" desk at the concert venue the evening of the concert.
Frisson Ensemble
Nine of NYC's Finest Young Musicians!  From Bach to Bolero!
https://www.frissonensemble.com/
THURSDAY, JULY 7, 2022
7:00 PM
First Baptist Church
New London, NH
Frisson is explosive!
From New York City, Frisson features the best and brightest of classical music's rising stars. Frisson showcases a myriad of rarely-performed masterworks, and the group expands and contracts into a variety of ensembles, including quintets, sextets, nonets, and a small chamber orchestra. The ensemble performs in over 25 cities annually including appearances in such diverse venues as the Morgan Library and Museum in New York City, for the Da Camera Society in Los Angeles and at the Bermuda Festival. 
Program:
Rossini – Italian in Algiers Overture
Vivaldi – Summer (or Winter) movement from the Four Seasons
Bach – Brandenburg Concerto No. 4
Gershwin – Porgy and Bess selections
Intermission
Tchaikovsky - Nutcracker Suite
Ravel – Bolero