---
Donate to SMA:
Donate to Youth Outreach:
PLEASE NOTE: Tickets purchased after July 18 will be held in your name at the "Will Call" desk at the concert venue the evening of the concert. They will NOT be mailed.
FRED MOYER JAZZ TRIO  
THURSDAY, AUGUST 18, 2022
7:00 PM
First Baptist Church
New London, NH
CLASSICAL JAZZ
An evening of classical piano and classic jazz solos!  The first half of the program features renowned pianist, Fred Moyer, performing classical piano solos.  Fred is joined in the second half by Lowell Ringel on bass and Bob Savine on drums to bring to life the improvisations of legendary jazz pianists and their trios through note-for-note transcriptions of their greatest performances.
"The classical repertoire points out the links between classical music and jazz. Most of the great classical composers were great improvisers, and many compositions started life as improvisations. Theme and variations, a common form in classical music, is the model for most jazz.  Many of the harmonies that we associate with jazz were first invented by classical composers.  Finally, some "classical" works such as Gershwin's Rhapsody in Blue straddle both worlds."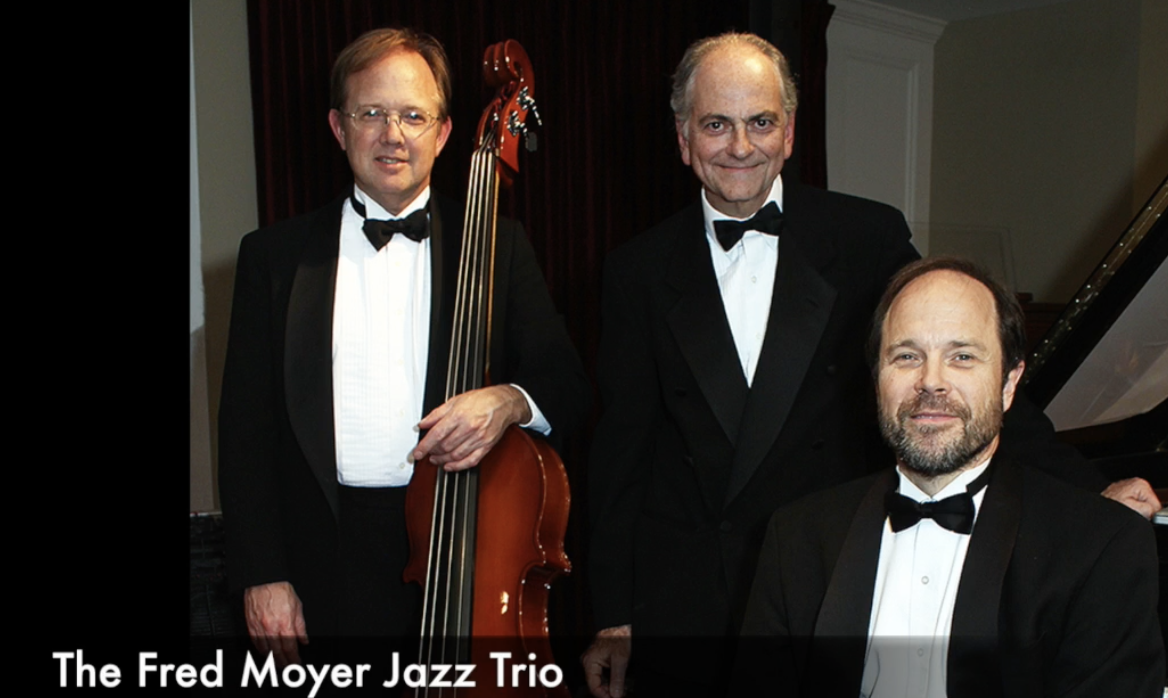 Fred Moyer
Frederick Moyer began studies at age seven with his mother Betsy. Subsequent teachers included Theodore Lettvin, Eleanor Sokoloff and Menahem Pressler of the Beaux Arts Trio. He attended Curtis Institute of Music and Indiana University. He has since established a career of over 35 years as a full-time concert pianist, performing in forty-three countries and in such far-flung venues as Suntory Hall in Tokyo, Sydney Opera House, Windsor Castle, Carnegie Recital Hall, Tanglewood, and the Kennedy Center. He has appeared as piano soloist with most of the major orchestras of the United States as well as many orchestras of Europe, Asia, South America, Africa and Australia.
Moyer's far-reaching interests have allowed him to contribute to classical music in unique ways. An avid computer programmer, he often incorporates technology into his concerts. He performs note-for-note transcriptions of such jazz pianists as Oscar Peterson, Bill Evans and Erroll Garner, bringing this great American music onto classical music stages. In July 2009, Dr. Paul Green and he unveiled an unfinished piano sonata by Robert Schumann, a find that was widely reported in the news media.
His many recordings comprise works by over thirty composers and reflect an affinity for a wide variety of styles. His CD of Clara Schumann's Piano Concerto was the first commercial recording of a large-scale Romantic work using an orchestra created from sampled sounds. His Mussorgsky/Mendelssohn CD was the first using the Bosendorfer 290 SE Recording Piano. Other recordings include David Ott's Second Piano Concerto with the London Symphony which was written for Moyer. Many other composers have written for Moyer including Pulitzer Prize winners George Walker and Ned Rorem, and Donal Fox whose Etudes of 2002-2006 were commissioned by the Guggenheim Foundation.