Symphony Sweets
The "Keys" to SMA's Signature Cookies

Shortbread Base:
1 ½ stick unsalted butter
2 cups all-purpose flour
1/2 cup packed light brown sugar
½ tsp salt
Preheat oven to 350 degrees. In a food processor, blend all ingredients until mixture begins to form small lumps. Sprinkle mixture into a 9x13 by 2-inch baking pan and with a metal spatula press evenly onto bottom. Bake shortbread in middle of oven until golden, about 20 minutes. While shortbread is baking, prepare the topping.
Pecan Bar Topping: (to be spread on hot shortbread base) 
2 cups pecans
1 stick unsalted butter
1 cup packed light brown sugar
1/3 cup honey
2 TBSP heavy cream (half and half works, too)
In a food processor, coarsely chop pecans. In heavy saucepan, melt butter and stir in brown sugar, honey and cream. Simmer mixture, stirring occasionally, one minute. Stir in pecans. Pour pecan mixture over baked shortbread base and spread evenly. Bake in the middle of the oven until bubbling, about 20 minutes. Cool completely in pan and cut into bars. Can be frozen.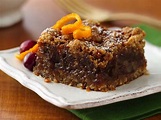 3 eggs
1 (6 ounce) can orange Juice concentrate
1 cup sugar
2 cups graham cracker crumbs 1 tsp vanilla
1 tsp baking powder
¼ tsp salt
¾ cup chopped nuts
1 (8 ounce) packaged pitted dates, chopped
1 tsp vanilla
1 ¼ cups powdered sugar
2 1/2 TBSP orange juice
Preheat oven to 350 degrees. Grease and lightly flour a 9-inch square pan. Beat eggs until light and fluffy; beat in orange juice concentrate. Stir in sugar, cracker crumbs, baking powder, salt, nuts, dates and vanilla; mix well. Spoon mixture into prepared pan. Bake for 50 minutes. Cool in pan on wire rack. Combine powdered sugar and orange juice; beat until smooth. Frost date-nut mixture; cut into bars.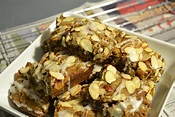 For the Blondies:
2 sticks unsalted butter
2 cups all-purpose flour
1 tsp baking powder
¼ tsp baking soda
2 cups packed light brown sugar
For the Glaze:
1 TBSP melted butter, warm
2 TBSP Irish whiskey
¾ cup confectioners sugar, sifted
3 TBSP brewed coffee or espresso, warm
2 large eggs
1 tsp vanilla extract
½ cup sliced almonds
Make the blondies; Preheat oven to 350 degrees. Butter a 9x13 inch baking pan and line with parchment paper so that it overhangs on all sides. Butter the parchment. Whisk together flour, baking powder, and baking soda. Melt butter and pour into mixing bowl with brown sugar, coffee and one tsp salt. Stir to combine. Stir in eggs and vanilla extract. Stir in flour mixture until just combined. Pour batter into pan and sprinkle with almonds. Bake 27 to 30 minutes, depending on how chewy you like your blondies (a shorter time results in a chewie blondie). Let cool completely.
Make the glaze: Whisk together the butter and whiskey. Gradually whisk in confectioners sugar until glaze is thick but pourable (you may not need all the sugar). Using a spoon, drizzle glaze over the blondies in a rough crosshatch pattern. Let glaze dry 1 hour. Cut blondies into 2- inch squares.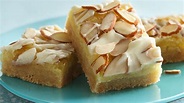 Cream together:
2 sticks butter
½ cup vegetable oil
2 cups sugar
2 eggs, beaten
Add:
4 cups flour
2 tsp almond extract
For glaze and topping:
One egg white
½ cup (or more to your taste) slivered almonds
Spread the creamed mixture into a parchment-lined 9x13 inch pan. Use the white of the additional egg and beat the white with a fork. Pour over dough in the pan. Spread the white on top of the batter with your fingers to coat the batter and then pour off the excess. Sprinkle evenly with slivered almonds.
Bake at 350 degrees for 20 to 25 minutes.