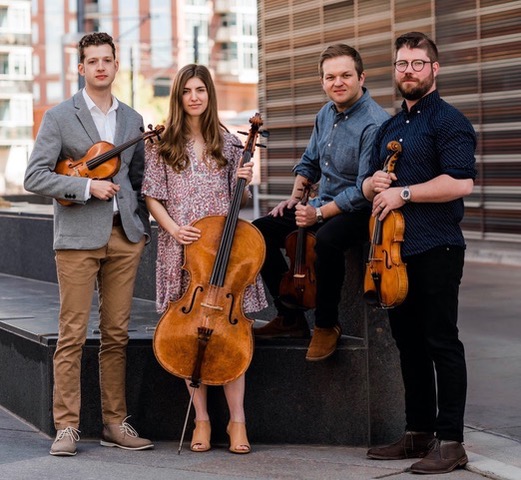 ---
Donate to SMA:
Donate to Youth Outreach:
PLEASE NOTE: Tickets purchased within 10 days of the concert will be held in your name at the "Will Call" desk at the concert venue the evening of the concert.
ALTIUS STRING QUARTET  

POSTPONED UNTIL 2021
Thursday, August 13, 2020
7:00 PM
First Baptist Church New London, NH
PROGRAM:
String Quartet in A major, Op. 18, No. 5 - Beethoven
String Quartet No. 1 "From My Life" - Bedrich Smetana
Anton Webern's Langsamer Satz
Hailed as "rich" and "captivating" by the renowned music blog, I Care If You Listen, the Colorado based Altius Quartet is determined to further the art of chamber music through performance, education, and outreach. Deriving their name from the Olympic motto Citius, Altius, Fortius (Latin for Faster, Higher, Stronger), Altius reaches diverse audiences through community engagement and innovative repertoire. The quartet is comfortable performing in venues from art galleries and jazz clubs, to homeless shelters, and prisons.
Formed in 2011, the Altius Quartet has held the position of Fellowship String Quartet-in-Residence at the University of Colorado-Boulder, where they were mentored by the world renowned Takács Quartet. Altius has also served as Ensemble-in-Residence at Southern Methodist University, working closely with Matt Albert, Emanuel Borok, and Andres Diaz. Altius has been a prize winner at the Fischoff, Coltman, and Plowman Chamber Music Competitions, and the Alice and Eleonore Schoenfeld International String Competition.
Altius has shared the stage with noteable artists such as Håkan Rosengren, Anton Nel, Andres Diaz, Peter Nágy, Geraldine Walther and Bright Sheng, and maintains an active performance schedule throughout the United States and abroad. Previous engagements include Carnegie Hall, Chamber Music Cincinnati, the Aspen Music Festival, Great Lakes Chamber Music Festival, the University of Northern Michigan, and the Fayetteville Chamber Music Festival. Most recently, Altius was the inaugural Fellowship Quartet at the Lakes Area Music Festival in Brainerd, MN, and the String Quartet-in-Residence at the Green Mountain Chamber Music Festival in Burlington, VT. Altius is also invited as a clinician to schools throughout the country, and partners with Friends of Chamber Music to secure outreach events in the state of Colorado.
Dedicated to supporting the creation and realization of new music, Altius' most recent album, titled Quadrants III, features works by living composers. Altius was also a recipient of the CMA Classical Commissioning Grant resulting in the composition of Michael Ippolito's 4th String Quartet. In the spring of 2017, Altius released their debut album Dress Code on the PARMA label. The album was highly praised for its ability to "[introduce] classical music to those that are not normally fans…(Review Graveyard). Altius also received critical acclaim from Fanfare Magazine for their second album, Shostakovich: String Quartets Nos. 7, 8, and 9, describing their performance as "visceral and wrenching."
When not recording or performing, members of the Altius Quartet enjoy exploring Colorful Colorado and participating in a friendly rivalry in their Fantasy Football league.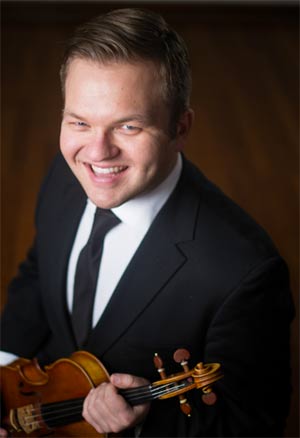 Joshua Ulrich
Joshua Ulrich joined the award-winning Altius Quartet in the spring of 2014. Joshua has performed internationally as soloist, recitalist, and chamber musician. His growing artistic reputation is supported by having collaborated with such artists as James Tocco, Awadagin Pratt, and Sarah Sant'Ambrosio. He is currently a candidate for the degree of Doctorate of Musical Arts at the University of Cincinnati College-Conservatory of Music.
Joshua completed his studies with renowned pedagogues: Won-Bin Yim, Dorothy Delay, Chin Kim, Hyo Kang, Joel Smirnoff, and Cho-Liang Lin and has performed in master classes taught by Midori, Pinchas Zuckerman, Cheeyun Kim, and Igor Ozim. He has been awarded fellowships at the Aspen Music Festival and Bowdoin International Music Festival and was a Shouse Artist at the Great Lakes Chamber Music Festival. As an orchestral musician, Joshua was a regular substitute with the Cincinnati Symphony Orchestra, an associate musician with the Columbus Symphony Orchestra, and the Associate Concertmaster of the Richmond Symphony Orchestra, Indiana.
Joshua has just completed a post-graduate degree at the University of Colorado-Boulder, where he and the Altius Quartet were the Fellowship String Quartet-in-Residence working with the Takács Quartet. There he studied privately with Ed Dusinberre, Károly Schranz, and Harumi Rhodes.
Joshua plays on a violin made by Franz Kinberg in 1966 and a bow by Émile Auguste Ouchard.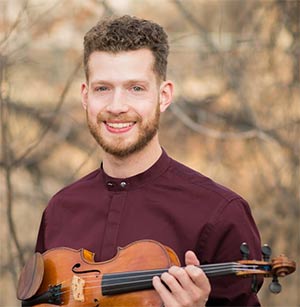 Andrew Giordano
A native of Williamsport, Pennsylvania, Andrew Giordano began playing the violin at the age of five. He is currently a violinist and founding member of the award-winning Altius Quartet. As a member of the quartet, Andrew has won awards and toured internationally in Europe, Asia, and Australia.
Andrew holds a Bachelor of Music in violin performance from Indiana University where he studied with Kathleen Winkler, Federico Agostini, and Koichiro Harada. After graduating from Indiana, he went on to complete his Master of Music degree at SMU under the tutelage of Emanuel Borok. From 2014-2017, Andrew and the Altius Quartet were the Fellowship String Quartet-in-Residence at University of Colorado – Boulder and were mentored by the Takács Quartet. While at CU – Boulder Andrew studied privately with Edward Dusinberre and Károly Schranz of the Takács Quartet, as well as Charles Wetherbee and Harumi Rhodes.
Andrew has performed as soloist, orchestral, and chamber musician at many respected music festivals including the Aspen Music Festival, National Repertory Orchestra, Great Lakes Chamber Music Festival, and Colorado Music Festival.
Andrew plays on a 1928 Gaetano Gadda violin, on generous loan from Michael and Cathy Reaves. His bow is made by David Samuels.
Andrew Krimm
Andrew Krimm began studying viola at the age of 7 in Dallas, Texas. In 2006, he began Bachelor of Music degree at the University of Colorado Boulder, studying with Erika Eckert and Geraldine Walther. In 2011, Mr. Krimm returned to Dallas to pursue a Performer's Diploma at Southern Methodist University where he studied with Ellen Rose. While in attendance, Andrew co-founded the award-winning string quartet, Altius Quartet. During their residency at SMU, Altius Quartet won first prize at the Coltman Chamber Music Competition, first prize at the Plowman Chamber Music Competition, and was awarded the Silver Medal at the Fischoff National Chamber Music Competition.
In the Fall of 2015, Mr. Krimm moved to Boulder to study with the world renowned Takacs Quartet. The Altius Quartet was awarded a three-year residency at CU-Boulder to guide the quartet through the creative and business aspects of having a successful career as a string quartet. In 2016 with the Altius Quartet, Mr. Krimm made his Carnegie Hall debut and was also awarded management with Classic ALIVE Artists.
The Altius Quartet recently completed two albums. The first was released in April 2017 featuring a mash up of many different genres including Haydn, Bolcom, a-ha, and Dave Brubeck. The second, to be released in October 2017, features Shostakovich's "Personal Quartets" Nos. 7, 8, and, 9. Both discs are being released by PARMA Recordings.
Currently Mr. Krimm lives in Boulder, Colorado with his wife, violist Stephanie Mientka and their cat, Gus. Andrew is the most outrageous, most obsessive, and at times the most heart broken Dallas Cowboys fan in the world.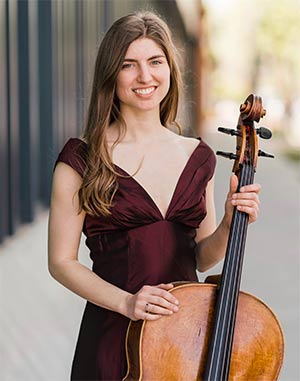 Erin Patterson
A native of Huntsville, AL, cellist Erin Patterson is the newest member of the Altius String Quartet. She began playing the cello at age three, and made her solo debut at age 17 performing Elgar's Cello Concerto with the Huntsville Symphony Orchestra.
Erin has performed in masterclasses for world renowned cellists such as Rafael Rosenfeld, Alisa Weilerstein, Pieter Wispelwey, Paul Watkins, Alan Harris, Tamas Varga, Fred Sherry, and Richard Aaron. During her summers she has been a participant of the Sewanee Summer Music Festival, the Brevard Music Festival, the Meadowmount School of Music, the Green Mountain Chamber Music Festival, the Brancaleoni International Music Festival in Piobbico, Italy, the Vermont Mozart Festival and the Vancouver Symphony Orchestra Institute.
Erin is a member of the Grammy nominated all cello ensemble, Uccello. She holds a Bachelor's Degree in cello performance from the University of Cincinnati College - Conservatory of Music, where she studied with Alan Rafferty, and a Master's Degree in cello performance from McGill University's Schulich School of Music, where she studied with Matt Haimovitz.
Erin plays on a cello made in 2002 by Michael Stürzenhofecker and a bow by François Malo.